Finley's been begging her imaginary friend (IF), Soren Lorensen, to write her a letter. I sent her one from her other IF, Evie, but it didn't seem to do. Then my wildly creative and incredible friend Ashley did this.
You must check out her pictures of the package contents on her blog
, they're amazing! I am still blown away!
Finley usually doesn't like having her picture taken, so we had to tread lightly. She also doesn't like to do things that weren't her idea first, so we set the package up outside on a blanket for her to stumble onto.
This was her reaction:
"For me?" She asked...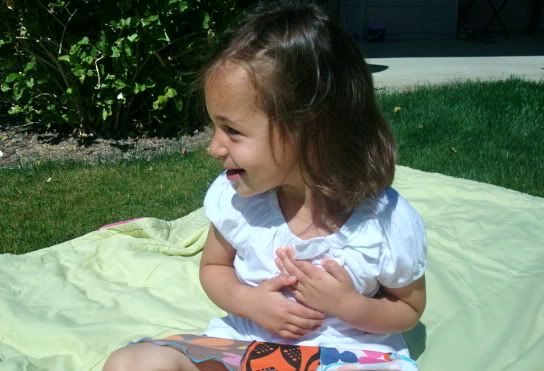 She shook it to see what could be inside...
And then we told her it was from Soren Lorensen.
Oh Happy Day!
She opened it up...
To find tons of treasures!
And we pored over every gorgeous little thing Ashley put into it. We read the incredible letters...
She was shocked to hear he left all his letters to her by mistake in his backpack! "No wonder they were late!" she said!
Elephants are her favorite (she sleeps with Harry Elephante, a stuffed blue elephant). She named this one 'Lumpy'
She made up a little game using the erasers in the packet, where we had to throw them and gather them from the grass...
She LOVED the origami paper and paper crane (one of her favorite books is about a little girl who makes a paper crane and names him "Menu" and he becomes her best friend because she hasn't any real friends at school)
We played with the little animal chips
She was like a kid at an Imaginary Friend Store ;)
It was a wonderful way to spend the morning...